Holyrood Abbey is a ruined abbey in Edinburgh, Scotland, that Lewis sees visions of in the magic mirror within his uncle's enchanted coat rack (The Whistle, the Grave, and the Ghost, 109).
Inspiration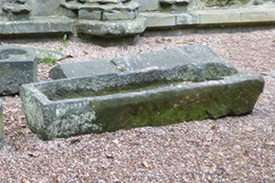 The abbey was founded in 1128 by King David I. During the 15th century, the abbey guesthouse was developed into a royal residence, and after the Scottish Reformation the Palace of Holyroodhouse was expanded further. The abbey church was used as a parish church until the 17th century, and has been ruined since the 18th century.  The roofless nave is all that remains of the medieval abbey buildings
[1]
.
Rood: (archaic) crucifix, cross[2].
See also
References
↑ Wikipedia: Holyrood Abbey
Ad blocker interference detected!
Wikia is a free-to-use site that makes money from advertising. We have a modified experience for viewers using ad blockers

Wikia is not accessible if you've made further modifications. Remove the custom ad blocker rule(s) and the page will load as expected.