The New Zebedee County Courthouse is a building whose image is reproduce atop a red tin candy box (The House with a Clock in its Walls, 16).
Inspiration
It is odd that Bellairs has introduced us to Capharnaum County [House, 4], yet identifies the building as the New Zebedee County Courthouse rather than the Capharnaum County Courthouse.
Calhoun County's first courthouse in Marshall was erected in 1837 on the Courthouse Square in the West End Park – now the site of the Brooks Memorial Fountain. However, the elements took their toll a little too quickly on the building and it soon became a dilapidated eyesore and it was demolished by 1872.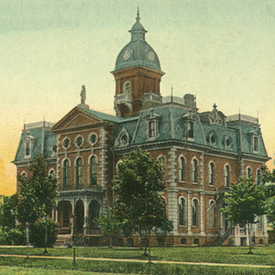 The next year construction on a second Courthouse began a block south of the original. When completed in 1875, it was the only building in Marshall of the French Mansard or Second Empire Style. This then would have been the courthouse looming near downtown during Bellairs's boyhood days Marshall. However, it too would go the way of the wrecking ball in 1953 and replaced by a modern structure built on this site
[1]
.
Reference
↑ Nineteenth Century Homes of Marshall, Michigan; Mabel R. Cooper Skjelver (1978), p.14.
Ad blocker interference detected!
Wikia is a free-to-use site that makes money from advertising. We have a modified experience for viewers using ad blockers

Wikia is not accessible if you've made further modifications. Remove the custom ad blocker rule(s) and the page will load as expected.